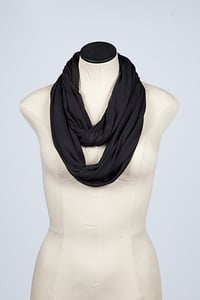 $

25.00
There is an endless amount of clever and spontaneous ways to wear this great circle scarf! Let your imagination run wild, never just settle on one style. Don't be afraid to play around and drape it, tie it, tuck it or just LOOP it! How will you wear yours?
Single, double, triple loop it, hood it, wear it as a vest, stylish top, skirt, shawl, or sarong for beach use! Never worry again how to tie your scarf and making it look good.
This is a over sized stretchable circle scarf of approximately 30" wide, by 60" long (around), which allows you to wear it in so many ways. Super soft, made of 100% Viscose.
$2 goes toward our charity for donation, Heifer International.
We guarantee 100% satisfaction. If you are not happy with your purchase, we gladly accept exchanges or returns.